Our Products Offer

The fullest, most true to strain flavor available.
A full suite of

Medicine suited to your needs.

We know that everyone medicates differently- that's why we're proud to offer a full range of products made from 100% aeroponic cannabis, ensuring quality and potency with every use. However cannabis fits into your life, we have a product that is perfect for you.
01
Cannabis Flower
DESCRIPTION
Fresh / Pure / Consistent
We've spent years cultivating a world-class lineup of strains, from bright sativas to heavy indicas and hybrids to suit any taste in between. Our aeroponic grow process ensures consistent, high-quality cannabis that you can depend on, resulting in flower characterized by its cannabinoids and terpenes, not its residual nutrients.
02
Sugar
DESCRIPTION
Sticky / Sugary / Dazzling
A sticky, granulated concentrate that's both visually stunning and rich in flavor, sugar has quickly become one of the most popular forms of cannabis available today. Our industry-leading processes ensure sugar that retains all the flavor and potency of the original flower.
03
Budder
DESCRIPTION
Smooth / Rich / Immediate
Budder is a whipped concentrate with a thick, creamy consistency that makes it easy and intuitive to enjoy. Like all our concentrates, our budder is created purely from our finest aeroponic flower, giving rise to a lustrous golden resin that's packed with both flavor and potency.
04
Diamonds & Sauce
DESCRIPTION
Potent / Decadent / Glistening
A specialized concentrate combining two separate components- "diamonds" of pure THC that float in a pool of cannabis terpene "sauce." This unique package allows the user to customize their experience with every dab taken, making it perfect for those looking to reach new heights with cannabis.
05
Shatter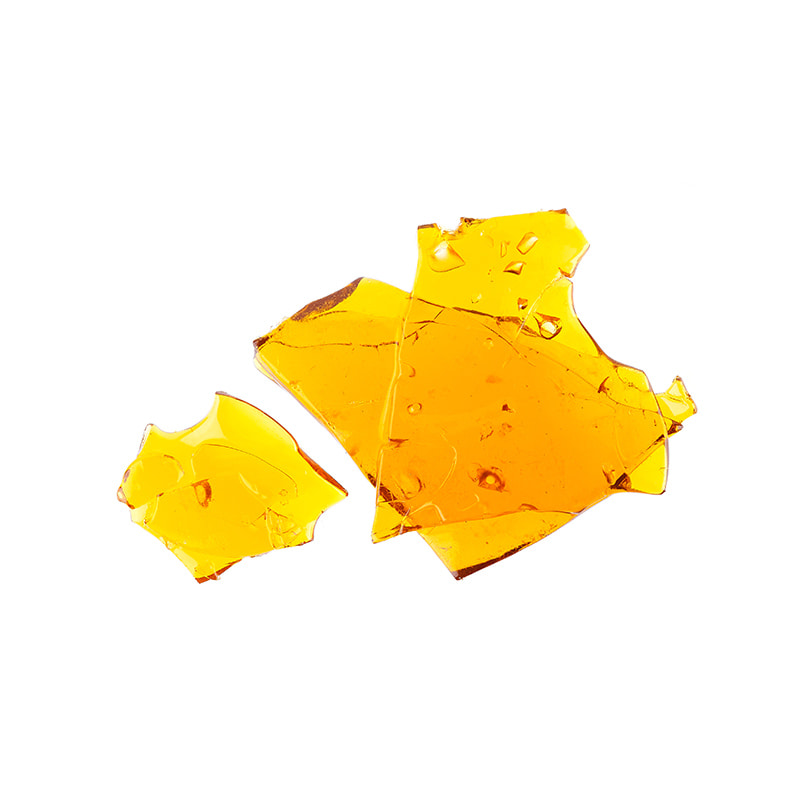 DESCRIPTION
Glassy / Brittle / Potent
One of the most potent forms of cannabis available, shatter derives its name from the process of making it- resin is cooled into large glass-like sheets, which, if dropped, will "shatter." This firm resin makes shatter not only one of the most powerful forms of concentrate we offer, but also one of the easiest to work with and enjoy.
06
Full Spectrum Hash Oil
DESCRIPTION
Edible / Convenient / Precise
Full Spectrum Hash Oil is an exciting, tremendously versatile liquid concentrate that comes in an efficient, easy-to-use twist tube dispenser, allowing it to be dabbed, consumed orally, or even vaped. Made with only flower, triple-filtered, fully activated, and 100% strain-specific, FSHO is a refined, adaptable cannabis product that is ideal for almost any cannabis consumer.
07
Cannabis Oil Cartridge
DESCRIPTION
Authentic / Discreet / Refined
We clarify our entire line of carefully curated strains into a pure, refined distillate that can be enjoyed discreetly at a moment's notice. Ideal for even the busiest of lifestyles, our vape cartridges are not only convenient, but also superior in quality and effectiveness thanks to the transparency of our aeroponic process.
08
Sauce Cartridge
DESCRIPTION
Flavorful / Robust / Exceptional
For those looking to elevate their vaping experience even further, we offer a line of sauce cartridges also distilled from our premium aeroponic flower. The difference is in the high-terpene sauce that's added to the distillation, increasing the flavors and entourage effects present in our already potent strain profile.
09
Pre-Rolls
DESCRIPTION
Classic / Thoughtful / Rewarding
Sometimes you need to go
back to the basics. We precision-fill classic ¾ gram RAW cones with whole, fresh-ground flower, giving you the quality and consistency of aeroponic in the most timeless form of cannabis consumption. Medicate with the strains you know and love, in a convenient, easy to use form factor that will never go out of style.
10
Small Batch Pre-Rolls
DESCRIPTION
Sublime / Satisfying / Delightful
Making cannabis products that fit seamlessly into anyone's life is essential to what we do. That's why in addition to our standard size pre-rolls, we're now offering Small Batch- a set of 12 mini ¼ gram prerolls. Whether you prefer a smaller dose or you're just looking for something to spice up your day, our fun and convenient Small Batch pre-rolls are a great choice.
11
Honey Sticks
DESCRIPTION
Sweet / Subdued / Indulgent
Whether you're looking for a smoke-free way to consume cannabis, a milder dosage, or just want to add a little treat to your breakfast, infused honey sticks are a fun, delicious way to sweeten up tea, biscuits, pancakes, waffles, and more.